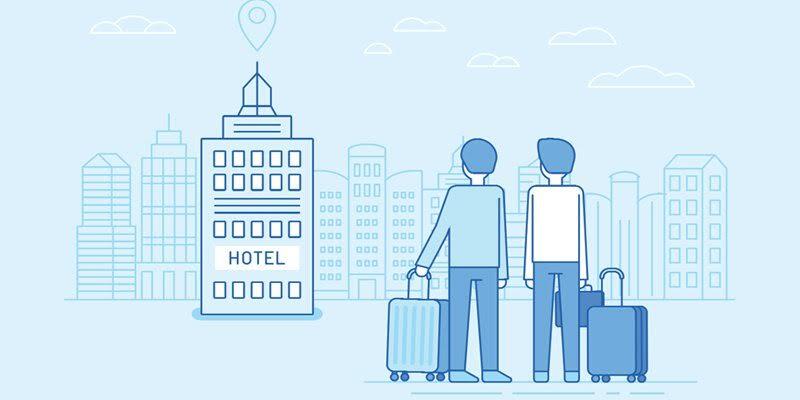 Accommodating Change
2018 will be a year when the hotel industry needs to work to stay above the clouds
By Harvey Chipkin
The hotel industry has enjoyed a heady eight-year period of record occupancy levels, according to the latest report from consultants CBRE. However, according to most analysts, average daily rate has not kept pace and the industry is reaching a plateau in its benchmark numbers.
Ordinarily, that should mean a swing to the buyer's side, but for 2018, that will not necessarily be the case, according to travel buyers and hoteliers who point to tougher cancellation penalties and other leveraging tools hotels are increasingly deploying.
Jan Freitag, senior vice president, lodging insights for STR, industry statisticians, likens the hotel industry to an airplane maneuvering at high altitudes – with the objective of not dipping too far. "Plateauing is not a bad word to describe the situation," says Freitag. "There is not a lot of down or up."
According to Freitag, 2018 will be the first time in many years that occupancies will decline nationally. It will be a small decline but a decline nonetheless and is the result of supply growth of two percent and demand growth of 1.9 percent.
Just as it did last year, says Freitag, in 2018 the industry will sell more rooms than ever – but it will also have more rooms available. And despite the occupancy stabilization, rates will continue to rise – an estimated 2.4 percent.
There is consensus that globally rates will see moderate increases, with distinct market-by-market differences. Steve Peterman, vice president and principal at Advito, a division of BCD Travel, says their forecast is for an increase of 2 to 4 percent globally.
That tracks with a global rise of 3.7 percent predicted by RoomIt by CWT, the hotel division of Carlson Wagonlit Travel. RoomIt president Scott Brennan says the highest growth is in eastern Europe (6.6 percent) and western Europe (6.3 percent). Latin America is the only region expected to see declines.
That kind of rate increase is relatively restrained, considering the strength of the industry. Some of that is psychological, says Freitag, both because of internal factors – sharing economy lodging and the acceleration of supply growth with new hotels offering low introductory prices are two examples – and external ones like the heightened security for international travel into the US.
Some lodging categories catering to business travel such as upper upscale and luxury hotels do see more strength. Ted Davis, chief sales and marketing office for Benchmark Hotels & Resorts, anticipates rate growth from transient bookings in the 4 to 6 percent range and possibly higher from corporate negotiated business as economic indicators remain strong.
Some individual markets continue to be weaker, mostly because of oversupply. They include Miami, Houston and New York City – all projected to see reductions in revenue per available room.
Mike Marshall, CEO of Marshall Hotels & Resorts, which manages 55 hotels, says all the supply that continues to come onstream makes it difficult to drive negotiated rates.
In markets like Nashville, which had seen regular rate increases, supply is increasing rapidly.  But nonetheless "there are times now that you pay more for a room in Nashville than in Manhattan," says Marshall.
"This is still a street corner-by-street corner business," says Cory Chambers, vice president and chief revenue officer for HVMG, a hotel management company that mostly operates large brands like Marriott, Hilton and Hyatt.
Mark Woodworth, senior managing director of CBRE, agrees noting that 75 to 80 percent of a hotel's performance is dictated by local economic and market factors. "Revenues will be driven largely by the business and commerce found locally and by changes to available supply," Woodworth says.
There is smoother sailing on the group side, which can provide travel managers with additional leverage by using that volume in negotiations. Bree Brostko, managing director of Kindred Hotels and Resorts, a collection of meeting-oriented hotels, says that over 70 percent of the group's properties report an expected increase in group business for 2018. And at Benchmark Hotels, Davis foresees an increase of 10 percent in group bookings in 2018.
HRS, the hotel portal, recently expanded in the meeting space by bringing its Meetago product for small and medium sized meetings to North America. Every third room night is meeting and group related, says Lukasz Dabrowski, senior vice president, hotel solutions for HRS, "and 60 percent of that is small and medium sized meetings. That's why travel managers have to include meetings as part of their negotiations."
Cancellation Fees & More?
Despite the struggles by hotels to drive rate, says Gretta Brooks, CEO of SalesBoost and a veteran hotel sales and marketing executive, travel managers are not necessarily in a better position this year because lodging companies are developing tools to gain leverage – most notably the recent tightening of cancellation policies.
In the past, when hotels had looser cancellation policies they would have a substantial number of rooms available at the last minute and would need to discount them. To counter that, hotels are extending their cancellation windows from 24 hours to 48 hours or even 72 hours in advance of arrival.
In fact, the broader implementation of tighter cancellation fees is being watched closely as an indicator of hotels looking to other avenues, not just to drive revenue, but to gain leverage in a tough marketplace. Dabrowski says that cancellation fees are a direct result of consolidation – and the emergence of mega-companies like Marriott and Hilton. He points to a study conducted by HRS for GBTA that predicted business travel costs could go as much as five percent higher for some corporate programs.
Travel managers, says Dabrowski, need to understand their own record of cancellations so they can negotiate more productively. "It's a hot topic," he explains, "but we have to be customer-centric and see what makes sense for the business traveler. It's difficult to influence some travel patterns and behaviors, like midweek travel, so you have to work with that by starting a dialogue. Even with smaller accounts it's always worth it to engage in dialogue."
While a 48-hour fee could impact business travelers, Peterman says most chain properties revert to their standard 24-hour cancellation during negotiations. He says this indicates that hotels "are sending a signal to corporate clients that the 48-hour cancellation policy is coming. They are giving companies time to understand and absorb costs so they can work with employees to modify behavior."
The cancellation fee is only one strategy hoteliers are deploying to firm up their negotiation stance. Marwan Batrouni, vice president, supplier relations – global hotel strategy for BCD Travel, notes that Marriott was traditionally tougher on chainwide discounts than Starwood. With the Starwood acquisition, Marriott has doubled the number of such discounts but it's still less than half of what Starwood traditionally offered.
What Price Loyalty? 
Part of what keeps the big brands strong, of course, is loyalty programs – driven most recently by book-direct or member rates where loyalty members get the best rates and more loyalty points by booking directly with the hotel, rather than through third parties.
Accumulating loyalty points is clearly effective in motivating traveler behavior, Brennan says, but these points can still be accrued with TMCs – unless an aggregator rate is booked. As a result, he says RoomIt recently launched a Loyalty Booster program aimed at increasing program compliance while allowing travelers to earn extra loyalty points.
Book-direct campaigns are likely to continue because they increase loyalty and allow hoteliers to decrease costly OTA bookings, according to Jennifer Dzialo, product director, corporate brands (USA) for Flight Centre, a large TMC. "Our goal is to continue to create distinct corporate marketing that clearly explains that the same book-direct benefits will also apply to approved corporate booking methods, such as an agent or online booking tool reservation," Dzialo says.
A development to be monitored are cracks in the loyalty front as Expedia has signed with the parent company of Red Lion hotels and G6, the parent company of Motel 6, to offer loyalty points on rooms booked through the OTA. If OTA's pick up more and larger brands, that could mean another shuffling in the booking marketplace.
Tapping into Traveler Wallets 
Even as they struggle to drive rates, lodging companies seek to tap into customer wallets outside room charges. While it is not yet a widespread phenomenon, hotels in New York and other cities are experimenting with "urban destination fees," which might cost $25 per night and include local phone calls, an F&B credit and WiFi. Alternately, such fees might simply be add-ons to reflect a hotel's proximity to a tourist attraction.
Still, Brennan says that for the most part, RoomIt hasn't seen widespread adoption of incremental fees. He notes the more aggressive approach to other sources of revenue is from new point-of-sale outlets. "Whether that is improving their restaurant offering, adding a bar to the lobby or adding quick food options like a food pantry," says Brennan, "hotels are looking to gain more share of travelers' spending by keeping them in the hotel and adding communal spaces."
Hotels have opportunities to increase revenue with business travelers by upselling add-on comfort and perks, such as club access, spa facilities and leisure activities, says Dzialo. "Corporate travelers who are on the road frequently are often willing to spend more for their personal benefit as these are not expenses they'd need to account for to their employer."
Managing 2018
Being proactive rather than passively reactive in negotiations is the optimum strategy for the coming year, says Brooks, making for benefits on both sides, not just winners and losers. She recommends sharing data about past and future bookings with hotel partners so managers can find a workable solution for both parties.
"Those are normally the relationships that work best – that are profitable for hotels and equitable for customers," says Brooks.
Marshall maintains it's always key to focus on individual markets, because "the more managers understand how competitive it is in a market, the better they'll be able to negotiate."
Dynamic pricing will continue to gain traction this year, says Chambers, "particularly if there's a client with modest to moderate volume." Brennan adds that "as the industry moves toward 15 to 20 percent discounts off published rates, we expect suppliers to continue to push dynamic rates instead of negotiated rates in 2018."
As always, insuring that all rates are recognized and loaded is crucial. There is true inequality between clients who only conduct a post-audit, Peterman says, compared to those who apply a methodical approach to performance management weekly and monthly.
"When we see that our client's negotiated rates are not loaded, the availability to book them is below 50 percent. When they are higher than BAR by more than 50 percent of the time, these insights and potential corrective actions can make the biggest impact on our client's future outlook," he explains.
"It's all about the data," says Dabrowski. "Rather than looking at the hotel community you work with every year, you need a sourcing expert who can open the full shopping shelf and give you a real market perspective. Few managers have the time every year to go through the cumbersome exercise of understanding every market not only by rates but traveler satisfaction and duty of care as well. That is much more easily handled by a specialist."
What might provide managers with more leverage – if the sector were to become more accepted for corporate travel – is alternative lodging like serviced apartments and shared economy accommodations like Airbnb. A survey of travel buyers conducted by the Business Travel Show and the Association of Serviced Apartment Providers found that buyers are spending more on budget and mid-scale hotels and that most have finally accepted the sharing economy as a part of their programs.
That means more expensive options might be losing ground. Most buyers are also using serviced apartments, which represent a mid-point between extended stay hotels and the home-sharing option.
The main obstacle to incorporating Airbnb into corporate travel programs isn't any technical barrier, according to Yannis Karmis, senior vice president, product planning and development for BCD Travel, but rather a preference among business travelers for hotels over Airbnb accommodations. That said, he continues "we've seen some unique circumstances that seem to lend themselves to an Airbnb stay instead of a hotel."
Some clients, according to Karmis, have reported that adding Airbnb as an option for their travelers has resulted in higher satisfaction with the entire travel program, even among those who don't take advantage of the option. He adds, "Many travelers just seem to feel more appreciated when their company gives them additional options they know will be available if they ever need them."
Dabrowski says HRS is not seeing a great deal of demand for Airbnb or other alternative options so far but "it's definitely coming up in certain markets." What he does see is the effect of the Airbnb experience on traditional hotel companies who remodel their properties to offer a more social atmosphere.
In fact, lodging companies are increasingly seeking to combine the best of the Airbnb and hotel experiences through the many new brands being rushed to market – like Marriott's Moxy and Hilton's soon to be announced brand that CEO Christopher Nassetta has called "a hostel on steroids."
The outlook for the hotel business in 2018 can be summed up in three words: "Subject to change." As Dzialo puts it, "I imagine that within the next year we will see new disrupters that aren't even on our radar."
Tags: STRTMCBCD TravelCarlson Wagonlit TravelRoomItBenchmark HotelsMarshall Hotels & ResortsHVMGCBREHRSSalesBoostBCD
Logout