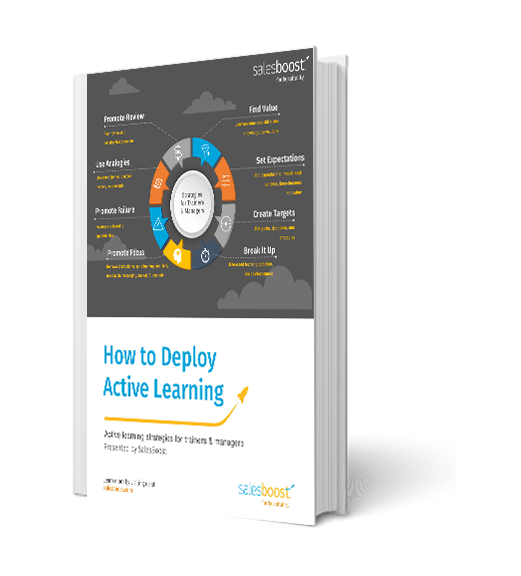 How do you deploy active learning?
In our eBook, the Science of Learning, we teach you about active learning and why it is important. Active learning is the only method that allows the learner to retain knowledge and put what they learn into ACTION. The next step is to learn how to take what you know about active learning and implement it with your training methods.  Download our ebook today to learn the 8 strategies to deploy active learning in your team.
Download the article to learn more about:
• 8 Strategies for Trainers and Managers to implement active learning
• How to use these strategies and lead your team to greatness
• Why each strategy is effective

You're One Step Away!
Fill out this form to download
"How to Deploy Active Learning"
SalesBoost is committed to protecting and respecting your privacy, and we'll only use your personal information to administer your account and to provide the products and services you requested from us. From time to time, we would like to contact you about our products and services, as well as other content that may be of interest to you. If you consent to us contacting you for this purpose, please tick above to say how you would like us to contact you.
You may unsubscribe from these communications at any time. For more information on how to unsubscribe, our privacy practices, and how we are committed to protecting and respecting your privacy, please review our Privacy Policy.
By clicking submit above, you consent to allow SalesBoost to store and process the personal information submitted above to provide you the content requested.