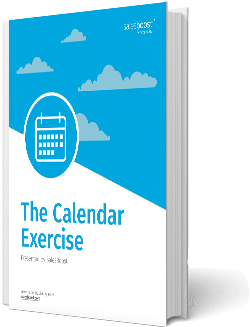 The Calendar Exercise Template
Bring your best self to work, starting with your calendar organization.
The saying is true; Proper Planning Prevents Poor Performance. How many items do you have on your every growing to-do list?  Do you have time blocked for "the un-expected"? How many tasks are you trying to fit into your calendar from a personal and professional perspective? There is probably a big meeting, a deadline, a kid's soccer game, and maybe even a workout that you're trying to fit into the same 1-hour time block. Although we wish we could, we can't be in all places at once.
Time management is crucial to your overall production and success (and happiness). Optimizing your calendar is the first step to bringing your best self both personally and professionally. It starts with taking care of Y.O.U. first! Clear the noise, plan your course, be more productive, and reduce your stress. Complete this calendar exercise to get started and receive a free calendar exercise template.
Other ways to organize your calendar is by: 
What's Included? 
Calendar Exercise Template

4 Steps to completing the exercise

Helpful hints to planning and organizing your calendar 

Completed Calendar Exercise example 

You're One Step Away!
Fill out this form to download
"The Calendar Exercise"
SalesBoost is committed to protecting and respecting your privacy, and we'll only use your personal information to administer your account and to provide the products and services you requested from us. From time to time, we would like to contact you about our products and services, as well as other content that may be of interest to you. If you consent to us contacting you for this purpose, please tick above to say how you would like us to contact you. You may unsubscribe from these communications at any time. For more information on how to unsubscribe, our privacy practices, and how we are committed to protecting and respecting your privacy, please review our Privacy Policy. By clicking submit above, you consent to allow SalesBoost to store and process the personal information submitted above to provide you the content requested.